Where we last left off, I was driving in the pouring rain with precious minutes left until I reached my preferred destination. The eclipse was already happening; and I doubted that I could arrive at that destination in Anderson in time.
It was time to decide what to do: keep going; stop short of my destination; or turn around.
I decided to keep going.
Photographs of the Total Eclipse of the Sun
Fortunately, I encountered no impediment in traffic. As I closed in on Exit 27 off Interstate 85 — which is located just north of the center of the path of the total solar eclipse — the rain suddenly stopped and the sun miraculously appeared again.
After negotiating my way off the exit ramp — cars and people were blocking both sides of it, leaving a narrow path through which vehicles were barely able to squeeze through — I turned right and went to the Hampton Inn Anderson/Alliance Business Park, where I actually found a parking spot amongst the dozens of people camped out in the otherwise full parking lot.
People were everywhere — at the Holiday Inn Express Anderson-I-85 (Exit 27-Hwy 81) across the street; at the fuel stations next door and across the highway; at the fast food restaurants; and even in the streets.
Some had telescopes the size of airplanes; while others used their portable electronic devices. Some people even had erected temporary structures under which they can relax in their lounge chairs and enjoy the event. Families, couples, individuals, young, old, black, white, Northerner, Southerner — they all came out to witness what the hype was all about. Some people were even sporting special total solar eclipse T-shirts and other assorted gear.
Once I pulled into the parking spot, I immediately set the camera up on the tripod — along with my homemade contraption of using a pair of solar eclipse glasses to cover the lens…
…and started taking photographs. The two photographs on the left were obscured by a thin layer of clouds, which actually added an interesting effect. The seven photographs of the final phases prior to the total eclipse are in chronological order from left to right.
Those clouds off in the distance in the photograph shown above were the source of the rain through which I drove. The rain was still pouring out there; but notice the blue sky breaking through the clouds closer to where I was located. The sun was out where I was located as it was already being eclipsed.
At one point, the sun was almost completely covered by the moon and by some clouds…
…and yet, it was still bright outside, as shown in the above photograph — although one can tell that the ambient daylight was strangely not quite as bright. No wonder people were continuously warned not to stare at the sun when only one percent of it can still appear like some sort of somewhat muted daylight.
At that moment, I removed the contraption off of the camera lens during that last gasp of daylight and continued taking photographs…
…and incredibly, the clouds disappeared — for the most part, anyway — around the area of where the sun was shining…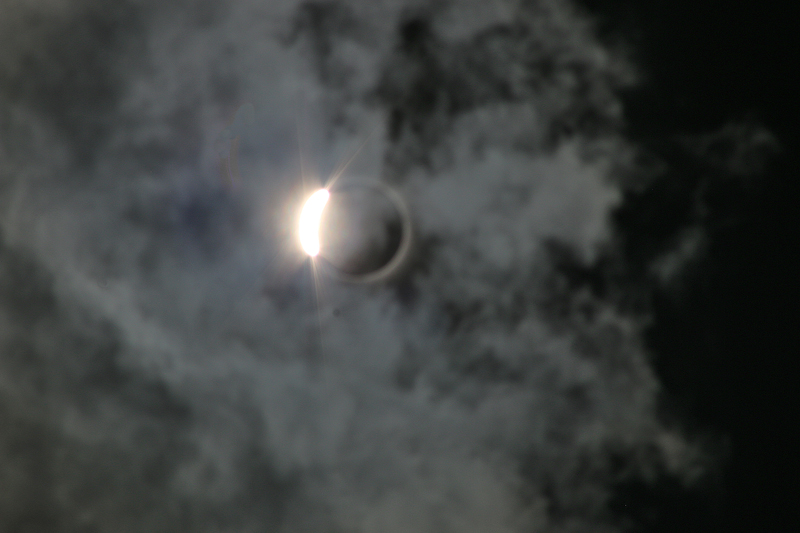 …and suddenly, darkness enveloped everything everywhere as a solid black dot with a bright halo appeared in the sky…
…a dot so black and dense when compared to the dark gray sky. I would not say it seemed like nighttime nor as bright as during a severe thunderstorm. It was a muted darkness which I expected to seem creepy…
…and it was at that moment when the crowd cheered and applauded. "Woooooooooo!!!!" was heard repeatedly amongst the gasps and clapping of hands. The photograph on the left is that of the total eclipse of the sun.
"Wooowww" is all I could manage to mutter in astonishment — like a little boy full of wonder who has discovered something new and awesome. I cannot explain just how spectacular was this event. No photograph — not even the best of those of professional photographers or astronomers with expensive equipment over the years — can remotely do justice and properly translate just how remarkable was witnessing a total eclipse of the sun live and in person. This celestial phenomenon — which lasted two minutes and 38 seconds — brought tears to the eyes of some of the people in attendance.
The sun started to peek through just as quickly, signaling the end of the total eclipse. I took a few more photographs before affixing my contraption back onto the lens to catch the waning phases of the eclipse. People were smiling, laughing and talking to each other — as though the world was at complete peace and harmony for that brief moment — as I photographed the phases of the solar eclipse after totality…
…and then the traffic to leave started. Cars with license plates from all over the eastern seaboard — New York, Florida, Virginia, Georgia, New Jersey, North Carolina as only a few of many states which were represented — were lined up everywhere.
Trash — such as empty plastic water bottles and sunglasses — littered the area.
I stayed behind with several other die-hard photographers and continued to take pictures.
One person told me how he braved the rains as he traveled from Charleston to Anderson. I told him about the rain which I endured; and I pointed to the clouds in the distance where the rain was still falling at that moment.
An older gentleman in a motorized wheelchair approached me. "Didja get some good pictures?" he asked.
"I sure did", I replied. "Did you?"
"Nah. I just came out with my wife from two and a half hours away to see the eclipse. We started seeing total solar eclipses since the one in Virginia Beach."
"When was that?"
"Sometime in the '60s", he replied. Upon later research, I believe he was referring to the one which occurred on Saturday, March 7, 1970. "Today may be my last total solar eclipse."
"There is another one in the United States scheduled to occur in the year 2024, I believe."
His face lit up. "I will check on that; and God willing, I will be there."
I smiled as we said goodbye; and he headed back to his wife and his vehicle.
Going Back
I finished photographing the last phases of the eclipse prior to packing my camera equipment.
One good thing about being in South Carolina is that the fuel stations offer some of the lowest prices in the United States. I filled up my car with gasoline for $1.97 per gallon.
Little did I know that solar eclipse glasses were on sale at this fuel station for $3.49 per pair if I did not have any with me. I would not have known until it was too late.
The traffic had cleared by this time; so I figured that that moment was a good time to leave.
The car was only several miles into traveling south on Interstate 85 back towards Atlanta when the traffic stopped again…
…and it never let up in South Carolina.
Driving the 27 miles to the border on the highway took me at least two hours and 30 minutes before the traffic miraculously cleared up just as I drove across the state line into Georgia; but I once again endured the intermittent alternation between stopped dead traffic and traveling at highway speeds.
Not counting for stopping to eat dinner on the way back, the return trip consumed approximately six hours and 30 minutes to complete — but at least I did not have to worry about missing an eclipse; so I would much rather have worse traffic on the return trip. Add the four hours and 30 minutes — which is double the time which should have been spent — on the trip to Anderson; and that is approximately eleven total hours of driving in aggravating traffic on that day.
Summary
At least one person asked me whether or not all that driving was worth seeing the total solar eclipse in person, I responded without hesitation: "Definitely YES!!!" I would do it all over again in a heartbeat.
If you have the opportunity to see a total solar eclipse in person, do whatever you can to see it. Not everyone will be amazed by it; but I was — and your next opportunity is in Chile and Argentina on Tuesday, July 2, 2019.
If you prefer to stay in the United States, the next total eclipse of the sun is expected to occur on Monday, April 8, 2024. Included in the path of totality will be cities such as Dallas, Indianapolis, Cleveland, Buffalo, Rochester and Burlington.
Things which I have learned from my experience with a total solar eclipse include:
Clouds could actually enhance the photographs of a solar eclipse during its partial phases — but not necessarily for a total solar eclipse
Consider reserving a room at a nearby hotel property so that you do not have to deal with traffic — especially in an area within range for 9.6 million people which was my destination; or even 74.6 million people near Santee in South Carolina — but be prepared to pay top dollar in room rates
Do not let inclement weather or traffic deter you from completing your mission, as you never know when — or if — good fortune will come your way, as it did for me
You can use solar eclipse glasses to protect your camera while taking photographs by covering the lens — ensure that absolutely no direct sunlight can get through — but I would recommend getting a special filter to fit on your lens instead for better quality and focusing
If you do not want to reserve a hotel room, leave yourself plenty of time for driving or however you intend to travel to the desired location
A tripod may not be enough — consider using the delayed picture option to reduce blurriness from shaking the camera
You can view the total eclipse of the sun without any aids — but once that "engagement ring" effect appears, that is the time to wear your special solar eclipse glasses once again
Never stare at the sun — even with solar eclipse glasses — for long periods of time; and never look directly into the sun at any time whatsoever without any protection for your eyes
All photographs ©2017 by Brian Cohen.
---
Please note that I receive compensation for affiliate links posted at The Gate With Brian Cohen effective as of Sunday, January 1, 2017. You are not required to use these affiliate links; but if you do use them, your support of The Gate With Brian Cohen is greatly appreciated — and using affiliate links will not cost you any extra time or money.